It doesn't matter where you choose to live. Our halls are filled with potential best friends, so much stuff to do, and really good food.
Find your place in University Housing.
Our university knows how to give you the classic college experience. You'll be part of a close-knit community, with RAs available whenever you need them and a meal plan that lets you eat at any dining hall on campus.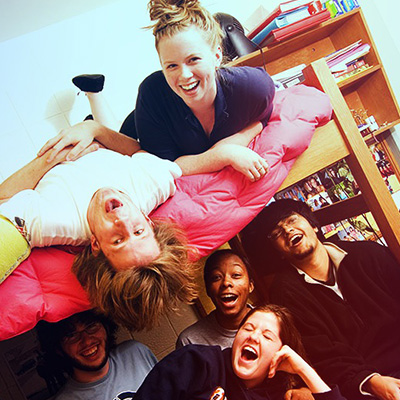 Want to live with people who really get you?
Join one of 11 Living-Learning Communities (LLCs), where you'll meet other students with the same interests as you. Our LLCs even offer on-site classes and field trips related to the things you love most.
Get comfortable in Private Certified Housing.
Approved by Illinois for all students, our Private Certified Housing facilities offer a different experience from that of the traditional residence hall. You'll find everything from air conditioning and semi-private bathrooms to fully furnished rooms and fitness centers. Two even have their very own swimming pools!
Thinking of joining a fraternity or sorority?
Of the 91 chapters on campus, 57 offer housing. Each facility is privately owned and operated, with rates comparable to other living options. Once you've been granted membership into the house of your choice, living with your new sisters or brothers makes for great bonding.