Transfer Course Report
Review your course report to see what's going to transfer, using our sample as a guide.
Sample Report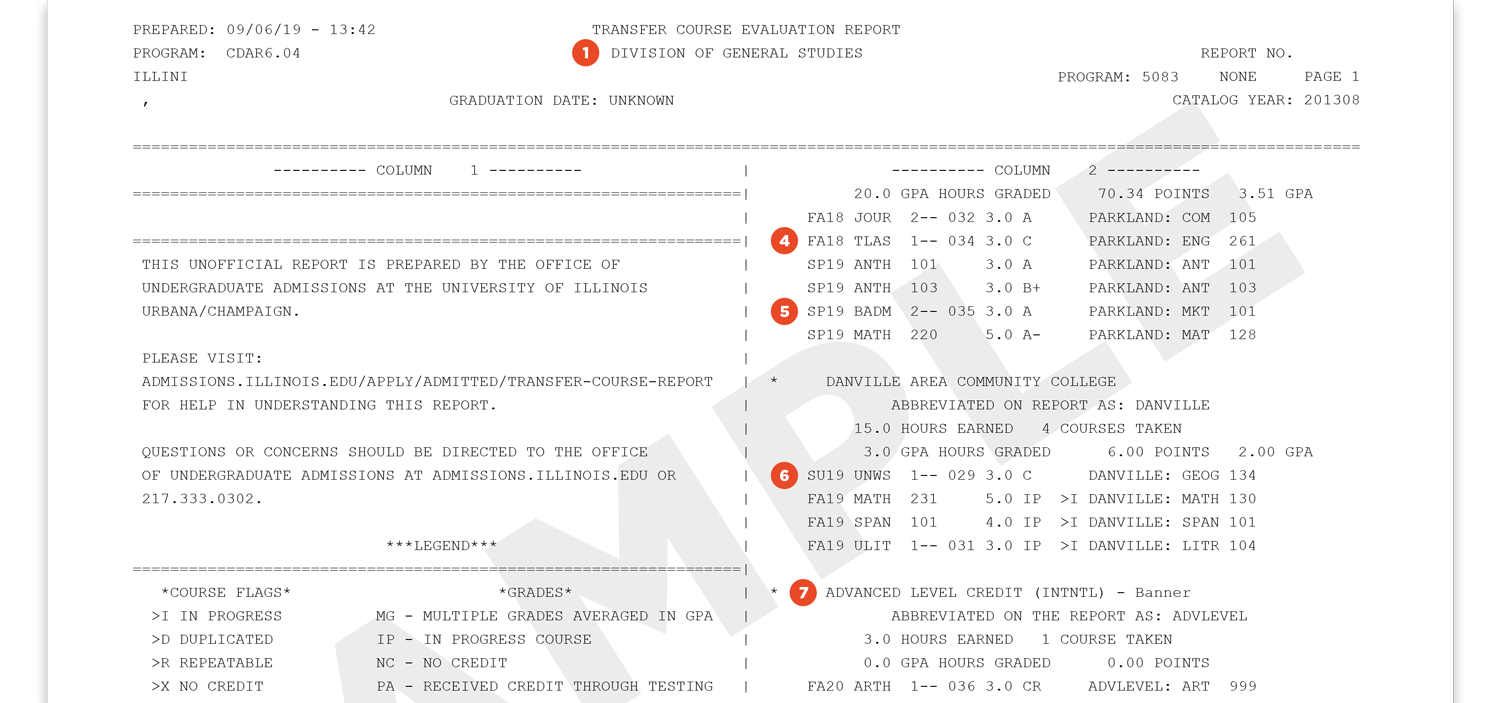 Click image for larger view
The college you've been admitted into on our campus.
The number of cumulative earned transferable hours and cumulative graded transferable hours, as well as cumulative points and cumulative GPA. Earned hours indicate the total number of hours you'll have by the time you're enrolled, so they include transferable courses currently in progress and those being taken in the summer. Graded hours indicate the total number of transferable hours that have grades. The GPA is calculated by graded hours. Points are the numerical grade multiplied by course hours (for example, an A is worth 4 points, so an A in a 3-hour course would be 12 points).
Institutions you've attended. Each section includes your earned hours, graded hours, points, and GPA from that institution.
Courses deemed transferable without direct equivalencies to courses offered on our campus. These courses are linked to Illinois subject areas but have no specific course number (for example, EPS 1XX, GEOG 1XX, KINES 1XX). You'll need to discuss with your advisor how they'll be used to meet graduation requirements.
Credit awarded based on grades earned on Advanced-Level Certificates

(A-Levels).

Nontransferable courses. You can submit a syllabus to us from the term each course was completed, but it's unlikely this decision will change.
Nontransferable courses due to insufficient information provided at the time of application. If you want to have these courses fully evaluated, submit a syllabus to us from the term each course was completed. Note that this doesn't guarantee that current designations will be changed to transferable.
Nontransferable credit due to test credit earned at another institution not meeting our policy. To receive credit on our campus from test credit earned at another institution, you must transfer at least 12 graded semester hours of credit. In addition, you must have successfully completed advanced classroom coursework at the institution awarding the test credit for a course that is transferable and can be considered a sequential continuation of the material covered by the test. If this credit was from AP, IB, ACT, or SAT exams, official test scores should be sent directly to our campus to see if they qualify for credit under our guidelines. If this credit was from proficiency testing, consult with us to see if you can take similar proficiency exams on our campus.